uniFLOW is designed to save your organization time and money by providing effective controls over its entire printer and multifunction printer (MFP) fleet. With its modular design, the uniFLOW solution can scale to fit any size organization, and can be customized to fit your organization's specific needs.
uniFLOW offers organizations the following functionality:
• Full accounting and reporting (Canon and 3rd-Party devices)
• Follow me printing, and device authentication (Canon and 3rd-Party devices)
• Secure mobile printing (Any mobile platform)
• Print room management (CRDs and/or print rooms)
• Job routing (Canon and 3rd-Party devices, including desktop printers)
• Scanning workflows (Scan to Mail, Scan to folder, Scan to MS SharePoint,
and advanced business processes)
• And more…

eCopy® PDF Pro Office
Designed specifically for the business user, eCopy PDF Pro Office is intelligent and easy to use, putting commonly used creation, conversion and collaboration features just a click away.
Instantly create 100% industry-standard, universally viewable PDFs files – including all PDF and PDF/A versions – from any PC application. Or convert static PDF documents into editable files and useful information.
This solution has capabilities that will make a user excited to work more efficiently, including the ability to listen to their PDF, multi-file merge, create fillable forms, graphic layer management, embed multimedia, and more!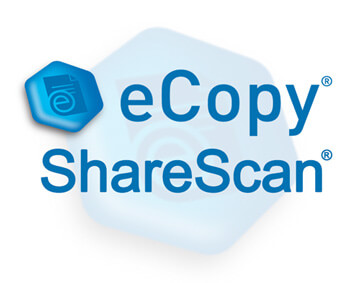 eCopy ShareScan®
The eCopy ShareScan line of document imaging solutions sets competitive benchmarks in security, application connectivity, innovative workflow processing and user-friendly design.
This easy-to-use software solution enables office workers to use Canon devices to turn paper documents easily and securely into digital information that is integrated into their communication, collaboration, workflow, and business applications.